Virtually every industry and consumer goods sector incorporate acrylic products and parts. At Orange County Industrial Plastics, we offer turnkey design and production solutions, as well as standalone acrylics forming services, for custom acrylic products and plexiglass sheets. We are also experts and design, fabrication, and manufacturing of custom POP Displays, POS Displays, Retail Displays, Visual Merchandising Displays, Branded Displays, Product Displays, Acrylic Displays, Plexiglass Displays, Counter Displays, Floor Displays, Tradeshow Displays, Marketing and Adverting Signage.
Acrylic Services From Orange County Industrial Plastics
At our 80,000+ square foot facility, we provide the following in-house services:
Acrylic/Plexiglass Sheets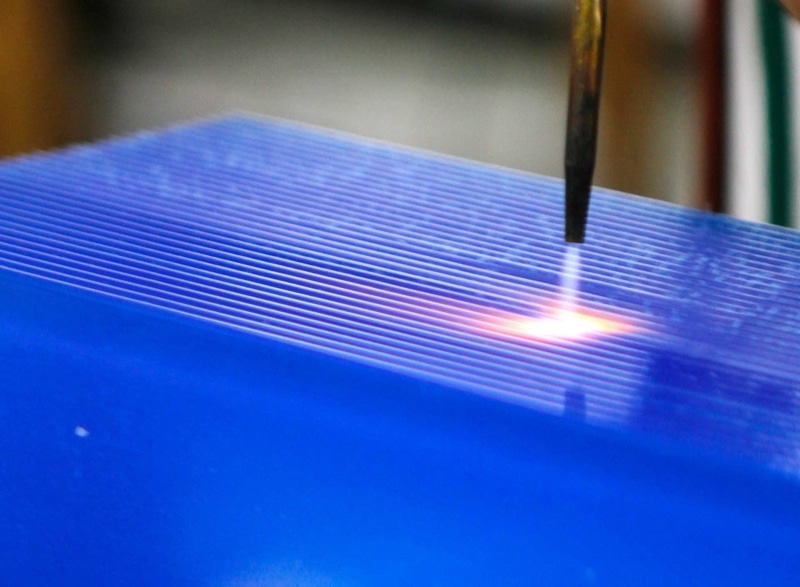 Plexiglass is an acrylic, versatile material that's lightweight, strong, and resistant to chemical damage. At OCIP, we maintain an inventory of rods,tubes, and sheets for displays, picture frames,and more. This material is ideal for complex fabrications because it responds well to cutting, CNC machining, and bonding processes.
Acrylic Fabrication
Our team handles in-house Plexiglass cutting and fabrication projects with CNC machining equipment, circular saws, band saws, and more. Our team also scrapes the edges of cut acrylic sheets to remove burrs, smooth nicks, and eliminate weak points. Plexiglass sheets can be cut at different angles to create complex workpieces and precision components.
Cutting
At OCIP, we offer the following cutting services:
Scribing and breaking, a simple process of scoring acrylic in straight lines and breaking the material along the scoreline
Jigsaw cutting, which uses jig and scroll saws to create intricate shapes and forms
Band saw cutting, which can create curved lines and round cuts in acrylics
Hand saw cutting for creating precise straight cuts
Laser cutting, which uses laser equipment capable of cutting, welding, and engraving acrylic workpieces
Drilling
Professional drilling equipment can cut through acrylic sheets, bars, and rods without fracturing the material. At OCIP, we use a variety of manual and CNC drilling tools to create precise holes and bores in acrylic workpieces. We also incorporate deburring, cooling, and countersinking processes to create clean, high-quality finishes.
Routing
CNC and manual routers are similar to milling machines but specialize in machining thermoplastics and softer materials than metal. Our routing equipment can cut joinery, carve acrylic sheets for decorative purposes, and more. With CNC routers, we can complete large orders of identical goods within tight tolerances.
Machining
At OCIP, we specialize in precision machining services to transform acrylic sheets, bars, and rods into finished products and components. We carefully match each project with the right machining processes and cutting tools to create high-quality products. Our machining services for acrylics include cutting, boring, engraving, and more.
Cementing
Acrylic sheets can be joined with like materials with solvent cements and bonding chemicals. Our services include capillary cementing, which cements acrylic joints with a narrow joint area, dip cementing, and more. We create clean, high-performance cemented joints for a long-term hold.
Line Bending
Line bending processes use precise applications of heat to bend and form acrylic sheets that are 1/8″ or thinner. Each bend joint is quickly cooled for a smooth, strong finish. Our products are inspected to eliminate the risk of bubbling, wrinkling, bowing, and marks.
Polishing
Cut, machined, and shaped acrylic edges can be rough or sharp after initial machining is complete. At OCIP, we offer high-quality polishing services to completely deburr, smooth, and finish raw edges of acrylic workpieces. We sand and polish edges to a high luster finish with a multi-step wet sand, polish, and buffing process. We also offer flame polishing, a heat-treating process that leaves the edges smooth and gleaming. Not only does that gives your acrylic goods an appealing finish, but it also makes them safe to the touch without the risk of sharp edges and burrs.
Learn More & Request a Quote
Orange County Industrial Plastics is the go-to local services provider for cutting, machining, and finishing high-quality acrylic goods in Orange County, California. For over 35 years, our company has provided turnkey solutions for designing, creating, and distributing plastics. We handle order volumes ranging from prototypes to high-volume orders. Contact us today to learn more about our acrylics and thermoplastics services or request a quote to start your order.